16 Male K-Pop Idols Who Took Us On Spring Dates Under The Cherry Blossoms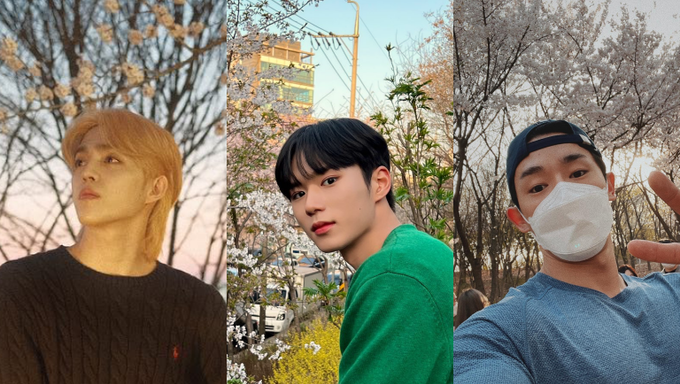 Spring is one of the most anticipated seasons in Korea because of the beautiful cherry blossoms that bloom. Many make their way outside to snap pretty photos with the pink petals. It is an especially exciting time for couples to walk around and stare at the beautiful nature together.
Some K-Pop idols have also made sure to get a snap with the gorgeous flowers and many of them are serving boyfriend material vibes! So, here's a list of male K-Pop idols who 'took' fans on a date to see the cherry blossoms.
Note: This article is just for fun. It is in no particular order
Whenever fans see WonHo he usually shines brightly, but the sun peeking out like a halo among the cherry blossoms is adding to his angelic vibes in this picture.
2-6. WEi members
All of the WEi members blessed fans with pretty pictures of them under the cherry blossoms, except member Yoo YongHa who has not posted. It's kind of hard to tell where the members are in the photos as their visuals are just as flower-like.
SEVENTEEN's DK is looking photo-ready in more than one sense of the phrase in his photo and S'Coups is looking like a flower himself. Imagine how lovely it would be to be on a spring date with either of them.
9-12. NCT Members
JaeHyun, Mark, TaeYong, and DoYoung all posted photos under the cherry blossoms. Not only are the photos totally endearing, but they also reflect each of their personalities in some small way.
iKON's Jay may be covering his face in this spring photo but his visuals are still sticking out and competing with the flowers.
OnlyOneOf's YuJeong took this cute picture where it looks like he is patiently waiting for you to get there and take a walk under the petals with him.
Both ONEWE's HaRin and KangHyun are serving casual but stylish vibes with these aesthetic pictures under the cherry blossoms. We love to see it!
Which K-Pop idol would you want to see the cherry blossoms with the most? Let us know in the comments!