K-Pop Besties: IU And Yoo InNa Are The Cutest Friendship Goals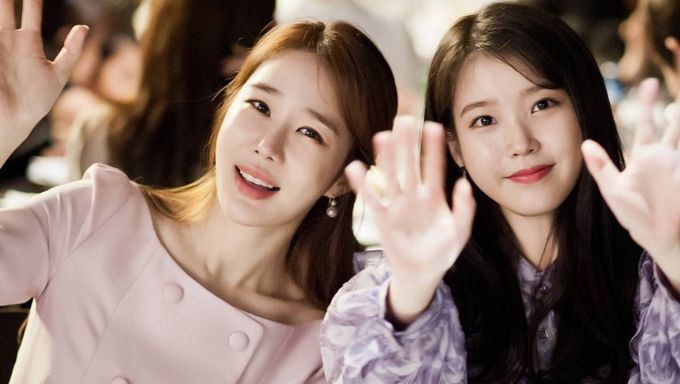 Welcome to the seventh article of Kpopmap's monthly series "K-Pop Besties"!
This series is celebrating all of the different friendships that exist in K-Pop. We will look at some of the moments when K-Pop idols (and sometimes actors) showed off their close friendships with one another and other entertainment industry members.
Check out. the rest of the "K-Pop Besties" series here!
Readers voted for IU and Yoo InNa in our monthly poll (at the end of the article) to be featured this month. If you are a new K-Pop fan you might not know how their friendship started. Let's take a look back at their friendship.
Before starting this month's series, you can vote for who you want to see featured in next months' article. If you would like to see a different idol friendship (not mentioned in the poll) featured in the series, please leave their name in the comments and we will add them to the vote over time.
Who would you like to see in the next "K-Pop Besties" article?
~ May 11, 2022 (KST)
※You can vote multiple times without sign in.
Dreamcatcher's SuA and A.C.E's Jun
Block B's P.O. and WINNER's Mino
Weki Meki's Kim DoYeon and Choi YooJung
BLACKPINK's Jennie and Jung HoYeon
BTS' JiMin and Ha SungWoon
Important notice: the vote only decides who will be featured in the next article. Everyone in the poll will be featured in the series eventually. Suggestions will also be gradually added each week.
Back to this month's feature!
IU and Yoo InNa have been friends for more than a decade. Despite their age gap (IU was born in 1993 and Yoo InNa was born in 1982), they have been and still are the closest of friends.
They met on a variety show called "Heroes" and felt a soulmate-type connection to each other.
Both have said that they know everything that there is to know about each other. In 2015, the two even went on a friendship vacation to Italy to solidify their bond. Ultimate friendship goals!
IU and Yoo InNa even have a friendship couple name: IU-InNa (아이유인나 in Korean) which uses the common 'u' ('yoo') sound in their names to combine them.
The two have shown support for each other in several ways over the years.
For example, they have sent each other food and coffee trucks when they have filming schedules.
They have also worked together and even shot a commercial together for Hyundai Cars.
On top of that, IU has some old photos from 2018 of Yoo InNa posted on her Instagram using the hashtag InNaStagram (인나스타그램 in Korean). 
Take a look at the cute friendship rings they got for Valentine's Day back in 2017. They sometimes even spend Christmas together.
The two are so close that they literally discuss everything. On an episode of "Love of 7.7 Billion", when asked whether she wants to get married or not, Yoo InNa joked that she might not be able to get married because of IU. She said that sometimes IU would call her and say that they should make a pact not to get married, but then call again later on and take it back, insisting that they should. Yoo InNa joked about this back-and-forth dynamic between the two of them before sharing her personal thoughts on the matter.
They remind us of the adorable friendships where you want to do everything with your bestie and even joke about doing the most personal things together, too.
You can watch the full clip here.
IU loves Yoo InNa so much that, during an acceptance speech, she once called Yoo InNa her muse.
Likewise, in an interview following the success of her role in the 2021 K-Drama "Snowdrop", Yoo InNa did an interview where she spoke about their friendship. She said that her and IU fit each other well because they match each other 50/50. They are 50% similar and complement each other's differences 50% as well.
What do you think of these besties? Isn't their friendship just adorable?