Tattoo Meaning: WOODZ's Gun Stomach Tattoo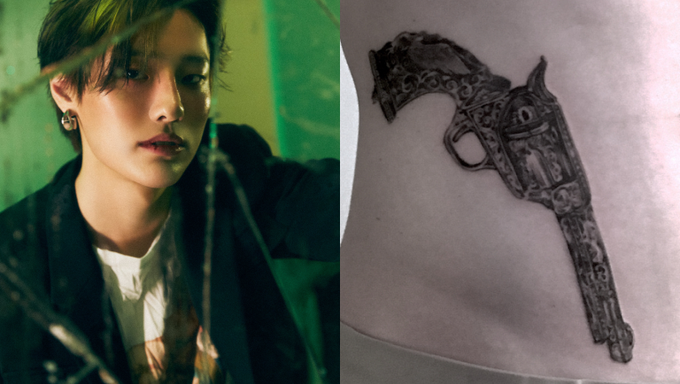 Welcome to the sixth article of Kpopmap's new bi-weekly series "Tattoo Meaning"!
Many Korean celebrities have tattoos and fans are always curious about what they mean or the story behind why they got them. This series will explore the meanings behind some of your favorite celebrities' tattoos.
Read the previous articles from our "Tattoo Meaning" series here!
This week we'll be covering WOODZ's gun stomach tattoo.
WOODZ is known for his honey-velvet vocals and consistently incredible music. On a more personal note, he is also known for using tattoos as a personal symbol that reflects his values or important moments in his life.
If you are new to WOODZ, you might not know about the meanings behind some of his tattoos. Don't worry, we've got you covered.
We'll start with his gun tattoo on his stomach which made an appearance in WOODZ's recent concept photos for his upcoming comeback with his 4th mini-album "COLOURFUL TRAUMA" to be released on May 4.
MOODZ (his fandom) were excited to see the gun make an appearance. WOODZ sometimes reveals the tattoo, especially when he is performing.
WOODZ's gun tattoo is a pistol facing downwards that looks like a gun being held in a holster position. In a DIVE Studios podcast episode, he revealed that getting this particular tattoo really hurt. He got it done over two sessions that took 6 hours each.
He got the tattoo when he decided to take the path of becoming an artist and was struggling with his career. He recalled that, at the time, he was struggling with the thought of why things were not working out when he believed that he was doing really well.
WOODZ was particularly into Western culture, music, and movies at the time and noticed that there were times when movie characters would have their guns perched on their hip. Even though you can't always see it, he got the tattoo with the thought that he wanted to be someone who can do anything at any time with his hidden weapon. The gun/hidden weapon is a metaphor for his abilities and talents that can be revealed at any time.
WOODZ noted that the tattoo was a way for him to recover some of his self-confidence.
One of his best friends, PENTAGON's Kino (you can read all about their friendship here), shared that he thought WOODZ's song 'Trigger' from the album "WOOPS!" matched really well with the tattoo.
The song has a Western film melody which matches well with WOODZ's influences at the time.
You can listen to the full song here.
WOODZ has many more interesting tattoos that we will make sure to cover later in the series. Stay tuned to this series for more tattoo meanings.
What do you think of his tattoo? Let us know in the comments.
Are there any other Korean celebrities (idols, actors, etc.) whose tattoos you are curious about? If you leave their name in the comments down below, we will consider featuring them in this series!