8 Male K-Pop Idols Who Look The Best In Cowboy-Inspired Outfits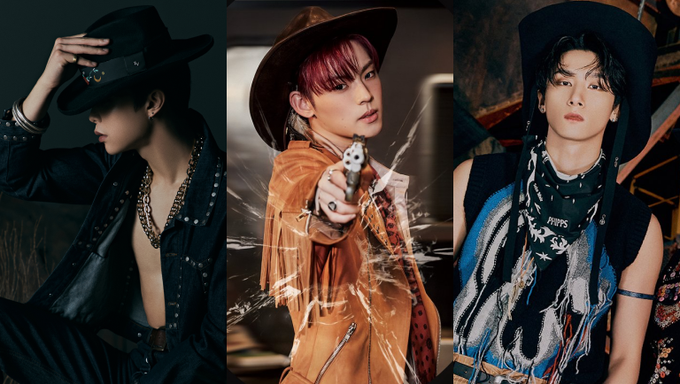 K-Pop fashion is one of the highlights of any comeback. Be it to bring the concept together or simply show off the gorgeous visuals of K-Pop group members, you can always rely on fashion to put the cherry on top of any K-Pop performance. Fashion can help you identify conceptual trends in K-Pop as well.
One of the fashion trends that has been on the rise, especially in recent years, in the K-Pop scene is the cowboy-inspired outfit. Many idols have rocked either full-on cowboy outfits or outfits inspired by cowboy and Western film aesthetics.
Cowboy-inspired outfits or Western wear is identified by fashion items and elements such as cowboy boots, cowboy hats, rhinestones, double denim, cropped wide-collar jackets, fringe, etc.
Let's take a look at some of the idols who have looked the best in cowboy-inspired outfits.
Note: This list is not a ranking. It is in random order. 
NCT wore cowboy outfits for their 2nd album release "RESONANCE Pt. 1". Johnny is quite literally bringing the heat in this cowboy look that emphasizes his toned body and model proportions with its perfect tailoring. He looks like a mysterious cowboy who is dangerous but also extremely handsome.
MONSTA X wore different cowboy outfits for their "No Limit" comeback. They have done the cowboy look, too. There's not much to say about how good I.M looks in this cowboy look because his visuals speak for themselves. So, we'll sum up his cowboy visuals in one word: powerful.
ATEEZ's MinGi has rocked the cowboy look a few times already. It is one of ATINY's favorite looks that he pulls off. One fan described MinGi's cowboy attire as a 'cultural reset' and we cannot agree more. Cowboy MinGi is serving the fiercest looks and makes us want to never take our eyes off of him.
Suga rocked this cowboy-inspired outfit for his feature in PSY's song 'That That' which he also produced. BTS has also rocked the cowboy aesthetic before. In 'That That', Suga told us to do what we want to do in this song and we're going to have to add admiring his good looks in cowboy-inspired clothes to that to-do list.
SHINee's Key wore this cowboy ensemble during his "BAD LOVE" promotions. Key added a hip element to his cowboy outfit mixing it with trendy space elements. Not only does the cowboy look prove that he can pull off any kind of fashion, but he looks dangerously too good to be true.
CNBLUE's Kang MinHyuk wore this ensemble for their "WANTED" promotions. Kang MinHyuk looks like the model who would be in the store window of whichever clothing parlor cowboys shop from. He could easily have been a cowboy in another life with how well the outfit suits him and complements his good-looking visuals.
ONF's HyoJin rocked this cowboy look for ONF's 5th mini-album "SPIN OFF" comeback. HyoJin is another poster boy that we imagine would've been one of the best-looking cowboys in the West. The clothes suit him so well, especially the way that the studded details complement his ear piercings and accessories.
EXO's Kai rocked this cowboy look during his 'mmmh' promotions. Kai is usually charismatic but adding that hat to his performance raised the heartthrob levels to the max. We can't get enough of this aesthetic.
These are only some of the K-Pop idols who have rocked and looked the best in this trend.
Which other idols have you spotted in cowboy-inspired outfits? Who do you think rocked the look the best? Let us know in the comments.
Which male K-Pop idol looks the best in a cowboy-inspired outfit?
※You can vote multiple times without sign in.