K-Pop Idols Who Have Shown Us How To Make Delicious Bowl Of Ramen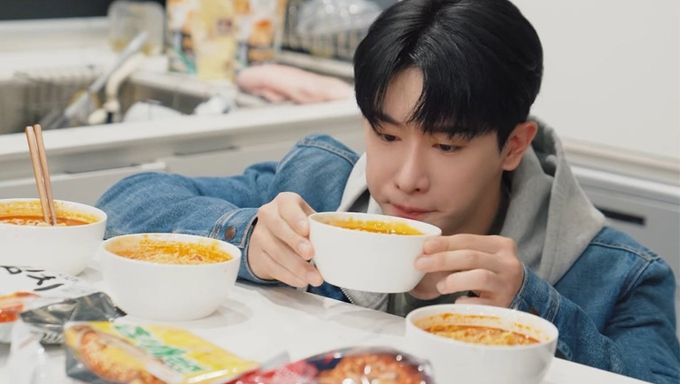 These K-Pop idols make ramen looks so tasty, that we cannot help but want to slurp along with them.
Ramen is one of the favorite foods of many K-Pop idols and celebrities. These easy-to-make noodles are often the go-to for many of our favorite stars who need something tasty yet quick to make after a long day filled with hectic schedules. With different brands of the instant noodles on the market, many often invent their own recipes that suit their taste and often those of fans who try to recreate some of their favorite idols' recipes.
Here are some of our favorite K-Pop idols who have shared a video on how they make a delicious bowl of ramen.
On the variety show "The Idol Ramyeonators", the idols are on the quest towards enjoying some of the best ramens that Korea has to offer, and that also includes their own. Showcasing their cooking skills, they both make different styles of ramen while entertaining viewers with their vibrant energies and hilarious comments.
HwaSa is one of the many K-Pop idols who have been tagged as a foodie as she has oftentimes gone viral for her love for food. Ramen seems to be one of her favorites. In this episode of "I Live Alone", we see her put her cooking skills on display as she wows both the cast and viewers with her taste and style of making the noodles.
The idol who also doubles as a chef, NCT's Chenle is one of the K-Pop idols who fans recognize for their cooking skills. His recipes are a fan favorite as they always turn out delicious and exactly as he describes them. For this ramen noodle, just have a glass of milk by your side because this looks spicy.
In this episode of "Weekly Idol", GOT7's Mark takes us on a step-by-step journey on how he makes a bowl of the instant noodles. His recipe is quite easy to imitate as he usually follows the instructions of the package but with his own mix. With so many yummy ingredients and the reactions of the cast and members, we bet it was delicious.
In this video, SEVENTEEN members are adorable chefs. Divided into groups, wrapped in cute aprons and armed with their cooking utensils, they show viewers how to make their own ramen recipe. They say too many hands make food taste bad, but does that apply to SEVENTEEN members? Watch the video to find out. P.S which member are you in the kitchen? The one who is busy doing the actual cooking, the one who knows an ingredient or 2 but is very loud, or the one that just stays quiet and patiently waits to taste the meal at the end.
WonHo's love for Ramen is a well-known tale amongst fans as in most of his vlogs, he has shown clips of him slurping deliciously to the noodles. In this video, although he briskly shares his style of making the instant noodles, watching him sample the taste of several brands of ramen makes us want to get a cup or two and slurp along with him.
Which of these idols recipes are you going to try out? Let us know in the comments section below.