Top 4 K-Pop Male Idols With A Prince Charming Like Noble Face As Voted By Kpopmap Readers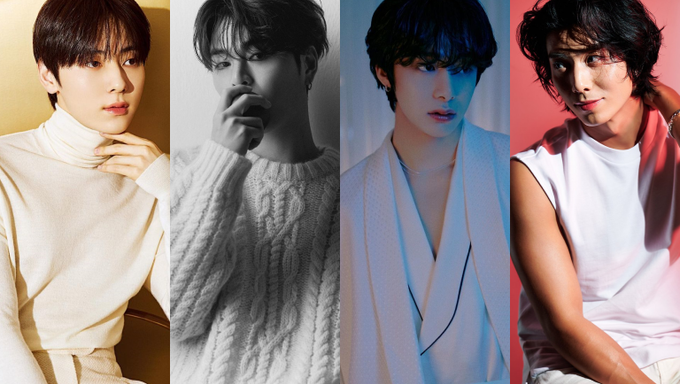 We used to look to our favorite fairy tale books and stories for the ideal type of prince charming. The handsome, brooding, fit, charismatic, and royal-like figure that exudes a charm that is so elegant and exquisite. But these days, along with fans, we have moved from the books to the screens as many K-Pop idols now bring to life these qualities that we have attributed to these fairy tale characters.
It is not just about the individual's facial features or structure that makes them an ideal prince charming, though their exquisite fairytale-like visuals add to the appeal, it is more about their attitude, a confident aura, and presence. It is that cold and almost distant gaze that is intriguing and fascinating. These characteristics, complemented with an outstanding visual are used to describe the modern-day meaning of a noble face.
From their handsome faces, poise, charismatic presence, and personalities that are so elegant, regal, welcoming, and with a bit of mystery that keeps you intrigued and fascinated, many of K-Pop idols possess some of these traits that have made fans fall in love with their prince charming like nature.
On the 22nd of March 2022, we took a poll asking our readers to vote for the male idol with a noble face who could be their prince charming. We had a lot of votes cast and we thank you for your active participation in the poll.
The results are in! Here are the top 4 male idols with a prince charming like noble face as voted by Kpopmap readers based on the data retrieved on the 6th of May, 2022.
By having one of the most unique visuals in K-Pop and with a cool personality that gives him a very mysterious yet elegant and alluring aura, iKON's June clearly fits the description of a noble face and no doubt the prince charming in the hearts of many fans who simply adore the idol for his endless charms. With 1,046 votes, he ranks 1st on this poll.
With his sharp and fiercely attractive facial features, MONSTA X's HyungWon already has the type of face that can be applied to every form of beauty standards and criteria. However, complemented by his refined and royal-like poise, and his incredible physique, he clearly is the perfect depiction of prince charming. And with 378 votes, fans seem to agree as he ranks 2nd on this poll.
The multitalented idol does not just possess a handsome face that is the ideal type for many but also a charming personality that is both chic and welcoming at the same time, which adds so much to his appeal. With 291 votes, he places 3rd on the poll.
His ethereal visuals might be the first thing that duly captures your attention but what locks you in is his confident, cool, and mysterious aura that leaves you intrigued by him. With 281 total votes, the idol places 4th on this poll.
Find out all the rankings below.
If you still want to cast your vote, you can below as the vote is always open.
Which idol with a noble face do you consider your prince charming? Let us know in the comments section below.