10 Male K-Pop Idols With Muscular Arms We Cannot Get Over (Part 2)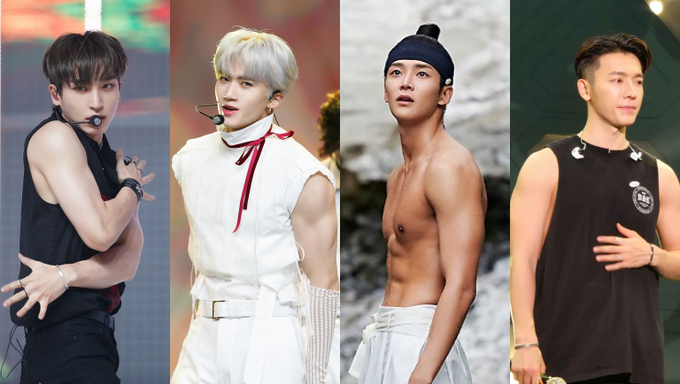 The muscular features of a male K-Pop idol are one of the many charms they use to excite fans. These idols do not just serve as an inspiration for many with their fit physique and impeccable form, they also make the heart of fans go awry whenever they tease them with a glimpse of their muscles. The arms are often one of the most viewed parts of the body, creating a mix of security, power, warmth, and a presence that is so appealing. Whenever some of our favorite male idols showcase this impressive part of their physique, fans cannot help but swoon harder for them.
On December 17th, 2021, we wrote an article about the 9 male K-Pop idols with muscular arms we cannot get over (part 1). You can read that article here.
Following the massive amount of responses we got from the article, fans shared some more K-Pop idols whose muscular features make their hearts flutter. We thought to make part 2 of the article to spotlight so many K-Pop idols whose impeccable muscular arms we cannot get over.
Note: This is not a ranking.
He really had fans and viewers feeling hot and excited following the release of PENTAGON's hit song 'Feelin' Like'. His muscular arms rightfully stole the attention of many who paused every time he appeared on the screen. And as more pictures were released, from performances and photoshoots, fans couldn't help but expressively admire his Greek god-like build that could make Zeus throw a bolt in envy.
When it comes to visuals, RoWoon really has it all, as there might be no bad cell in his body. Handsome, tall, and incredibly fit, it is no surprise that he takes all the attention in the room whenever he walks in. He has often shown a glimpse of his impressive physique but it was a world stop moment as we all collectively took a gasp when these images of RoWoon from the drama "The King's Affection" were released online. RoWoon proved that there are many features to his charms and just when you think you're getting used to him, he gives you another reason to be wowed by his presence. His amazing body proportions leave the hearts of many filled with love and unrelenting desire to keep staring at him.
2PM's JunHo since his debut has always been the reference for an impressive K-Pop body and motivation by many idols and celebrities. After revealing his fierce and intense workout routine on the variety show "I Live Alone" it is no surprise that he looks this amazing and many have given him much deserved praises for his dedication to his fitness.
THE BOYZ' SangYeon's physical structure is quite impressive and his muscular arms always capture the attention of many every time he displays them. His toned physique adds to his already visually appealing and commanding presence which is complimented by his adorable personality, making him irresistible and the ideal type for many.
You might not regularly get pictures and updates on social media by the idol, and that is because he is either busy mixing up Stray Kids' next hit song or at the gym pumping up his bulging muscles. Bang Chan's fit and toned physique is one of the many features of his infinite charms. And every time he graces us with a glimpse of his muscular arms, it causes a viral moment as fans cannot help but express their appreciation and adulation for the handsome idol.
Those are not rookie arms as the idol looks like a bonafide fitness trainer with his incredible physique. His baby face doesn't properly show off what is underneath his stylish outfits and every time he shares pictures like these, we can't help but be in awe of how fit and muscular he truly is.
DongGeon's fit physique drew the attention of many during TO1's (then TOO) participation in the Mnet reality series "Road To Kingdom". Now, we have seen him grow to become a young Adonis as his muscular features become more impressively attractive. He might call KyungHo the new muscle of the group, but in the eyes of many, he still wears that crown.
MinGyu's muscular features are truly a sight to behold and one of the key reasons why he looks amazing in everything he wears. His impressive body proportion, which includes a perfect set of muscular arms rightfully makes him a brand and magazine favorite. Oozing off a level of magnetism that is so alluring and intriguing fans eagerly wait for more pictures that show off his impressive physique.
One of the fittest K-Pop idols, VAV Jacobs's arms could rival that of a bodybuilder or an Olympic weightlifter. Complimenting his handsome and striking visuals, along with fans, we simply cannot take our eyes off his fit physique that makes fans' hearts beat faster with excitement and have us wondering how bigger they can get.
SUPER JUNIOR's DongHae is another 2nd generation K-Pop idol who has been in the eye of the public and a fan favorite for his impressive dance skills that are made even more glaringly appealing by his fit physique. Always creating chaos whenever he shows off his bulging muscular features, the idol leaves fans in screams of excitement and amazement as many expressively compliment his incredible physique.
Which of these male K-Pop idols have the best looking arms?
※You can vote multiple times without sign in.