10 K-Pop Idols Who Look Minty Fresh In Green Hair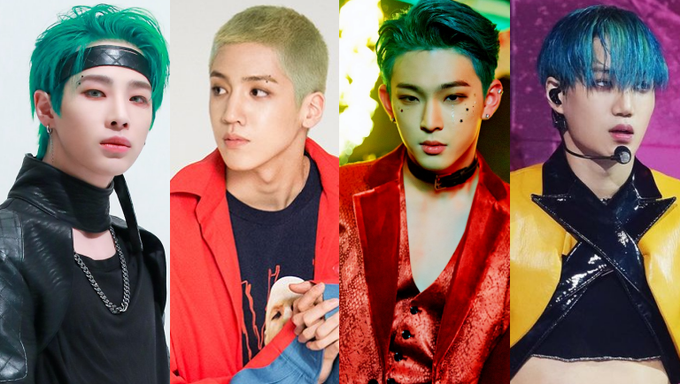 Green is not the most common hair color for K-Pop idols. Only a few have styled their hair in the color over the last couple of years. Representing growth, wealth, glory, renewal, energy, and freshness, we must say most of the K-Pop who have rocked this hair color might just be the epitome of these traits.
Here are some of the male K-Pop idols who look refreshingly cool in green hair.
EXO's Kai was definitely a breath of fresh air when he dyed in hair green during the 'Obsession' era. Everything about him during this era (and like others before and now) was perfect. We don't necessarily see him dye his hair often and it is always exciting when he does, because, just when you think he cannot get more handsome, he does this and his visuals are even more enchanting and appealing.
Fans say Choi HyunSuk in green hair is the standard and will always be legendary and we definitely agree. However, regardless of his hair color, his charms are what make him effortlessly attractive and with green hair, he definitely matches the refreshing aura he always exudes.
Green has to be LeeDo's color because his radiant shine glows ever so brightly every time he styles his hair in the color. Drawing all the focus to himself, his striking visuals are even more amplified, giving him a very commanding yet mysterious and alluring presence. One could say he looks like a Disney animation villain that you cannot help but fall for.
P1Harmony's JiUng makes green hair look like the next fashion trend that everyone should try as he looks so effortlessly chic and cool in this hair color.
A green-haired buzz cut? No one is doing it like PENTAGON's WooSeok, and along with fans we simply cannot get over this look. Looking like a high-end fashion model, fashion is all about risk and this totally paid off for him.
There were many charms about BAE173's comeback that left viewers expressively impressed. Their musical growth, fierce choreography, amazing concepts and promotions, and Muzin in green hair. Grabbing all attention, in this hair color, he looked very chic, alluring, and stylish, exuding a certain level of aura that we can simply describe as bewitching.
He is handsome, energetic, passionate, and bright, and he looks so good in green. DKB's Harry June exhibits many of the traits that the green hair color represents. And matched with his overwhelming list of talents, it is no surprise that many find him refreshingly charming and attractive.
Asides from his fiery rap flows, vibrant stage performances, bubbly personality, and being the leader of one of the sections of  NCT, Mark is also known for literally sporting every color of the rainbow on his hair. It seems with every comeback comes a need for new hair color. Green might just be our favorite yet, but when you have a strikingly handsome face as he does, every hair color would suit you. We can almost predict correctly that when Mark dyes his hair, he is preparing for a comeback.
There are few idols who can wear any hair color and still look seamlessly attractive. And Ha SungWoon is one of them. His expressive hair colors are part of his many charms and as much as we might worry about his scalp now, we cannot help but be vividly impressed by how handsome he looks in every hair color he wears and we beam with excitement for the next one that he will try.
Like many other idols on this list, MCND's Win is also known for his many expressive hair colors that have added to his irresistible charms. Always gaining attention from fans and viewers for his handsome visuals, his bright and cheery personality also makes every hair color a perfect fit for him.
Which of these idols looks the best in green hair? Let us know in the comments section below.