K-Pop Besties: Weki Meki's Kim DoYeon And Choi YooJung Are The Cutest As DoDaeng Couple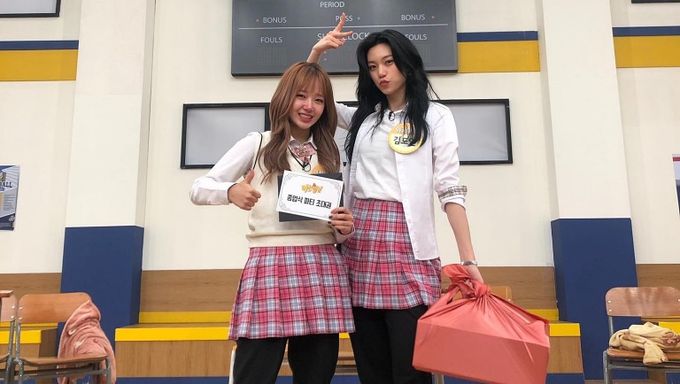 Welcome to the eighth article of Kpopmap's monthly series "K-Pop Besties"!
This series is celebrating all of the different friendships that exist in K-Pop. We will look at some of the moments when K-Pop idols (and sometimes actors) showed off their close friendships with one another and other entertainment industry members.
Check out the rest of the "K-Pop Besties" series here!
Readers voted for Weki Meki's Kim DoYeon and Choi YooJung in our monthly poll to be featured this month. If you are a new K-Pop fan you might not know how their friendship started. Let's take a look back at their friendship.
Before starting this month's series, you can vote for who you want to see featured in next month's article. If you would like to see a different idol friendship (not mentioned in the poll) featured in the series, please leave their name in the comments and we will add them to the vote over time.
Who would you like to see in the next "K-Pop Besties" article?
~ Jun 03, 2022 (KST)
※You can vote multiple times without sign in.
Girl's Day's HyeRi and BLACKPINK's Rosé
Dreamcatcher's SuA and A.C.E's Jun
Block B's P.O. and WINNER's Mino
BLACKPINK's Jennie and Jung HoYeon
BTS' JiMin and Ha SungWoon
Important notice: the vote only decides who will be featured in the next article. Everyone in the poll will be featured in the series eventually. Suggestions will also be gradually added each week.
Back to this month's feature!
Weki Meki's Kim DoYeon and Choi YooJung are known for their close friendship that reminds everyone of the bond between a married couple. They have a friendship pairing nickname 'DoDaeng'.
Note: This article will occasionally refer to them as 'DoDaeng couple'.
When asked who the husband and wife in the married couple is, they answered that it changes depending on the situation.
Being in a relationship means one needs to have the other's back through thick and thin regardless of gender.
Choi YooJung
The two become friends during their trainee days. They were able to spend a lot of time together, go shopping, and eat out at Gangnam Station together.
The duo participated in "Produce 101" becoming part of the final lineup of members and debuting as members of the girl group I.O.I.
After I.O.I disbanded they stayed together and both debuted as members of the girl group Weki Meki, too. As long-time friends, it became inevitable for them to form such a tight bond.
If you want to get an idea of their chemistry, watch this video of them on "Showterview",
The two buy each other thoughtful presents and often have moments when they say the same thing at the same time, proving their telepathic connection. They also support each others' activities as stars and personal hobbies.
DoDaeng couple also love to tease each other. Check out this video where they are full of hyper energy as they share a bit of their idol lifestyle.
Their height difference adds to their cuteness. Kim DoYeon is said to be 173cm and Choi YooJung is said to be 157cm tall. That makes a difference of 16cm between them. They are 'adorable' defined.
Dodaeng's height is so cute
#도댕 #Dodaeng pic.twitter.com/H7K0EKw7ED

— 호빵? (@ddl_____) February 25, 2020
cute dodaeng pic.twitter.com/JZ2Nf9i7bp

— iz?️ia (@wemeuniverse) July 9, 2021
When asked what they think contributes to the bright energy that they both exude, DoDaeng couple said that they are both honest people. They think that their honesty is a part of what makes them so charming.
Kim DoYeon once described Choi YooJung as a warm person. She said that she has never seen such a warm and kindhearted person before and that many people who meet Choi YooJung for the first time say the same thing.
In turn, Choi YooJung said that Kim DoYeon is someone whose sincerity you can feel right away. She is someone who is good at putting herself in someone else's shoes to consider their situation and one can feel her sincerity from that.
What do you think of these besties? Isn't their friendship just adorable?