Celeb Lookalike: EVERGLOW's E:U And Sorn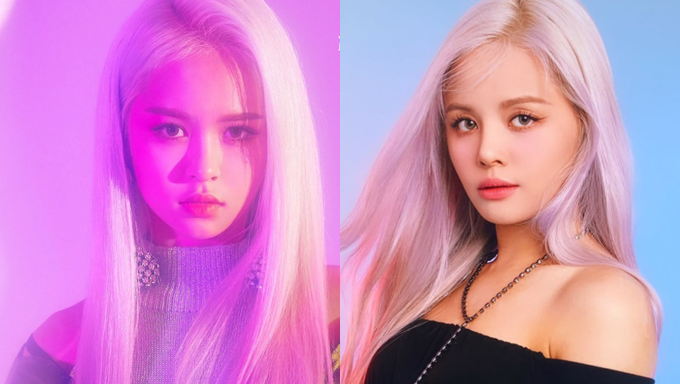 Welcome to the sixteenth article of Kpopmap's bi-weekly series "Celeb Lookalike"!
This series will look at two or three popular Korean celebrities that are known for looking like each other and how similar their visuals are.
Read the previous "Celeb Lookalike" articles here!
Readers voted for EVERGLOW's E:U and Sorn in our bi-weekly poll to be featured this week. Fans believe they have a big resemblance to each other.
Before starting this week's series, you can vote for who you want to see featured in next week's article. If you would like to see a different idol/actor pairing (not mentioned in the poll) featured in the series, please leave their names in the comments and we will add them to the vote over time.
Who would you like to see in the next "Celeb Lookalike" article?
~ Jun 03, 2022 (KST)
※You can vote multiple times without sign in.
WINNER's JinWoo and Han JiMin
NCT's SungChan and Stray Kids' Lee Know
2PM's JunHo and Lim YoungWoong
Stray Kids' SeungMin and DAY6's WonPil
TREASURE's JunKyu and Cho YiHyun
EXO's Kai and MCND's MinJae
WJSN's YeoReum and Girls' Generation's TaeYeon
Important notice: the vote only decides who will be covered in the next article. Everyone in the poll will be covered in the series eventually. Suggestions will also be gradually added each week.
Back to this week's feature! 
Firstly, EVERGLOW's E:U and Sorn have similar vibes. Their faces are similar shapes and they share a lot of similarities in terms of facial proportions.
Their nose shapes are also similar but the tips of their noses are quite different.
Many fans believe that they look alike so they even made a point of taking a selfie together.
What do you think of their visuals? Do you see the resemblance?
Are there any other Korean celebrities that you think look alike? Let us know in the comments.
Don't forget to check out all previous articles of the Celeb Lookalike series, you can find them directly from this collective list:
You can check some of the previous features below: