10 Female K-Pop Idols Who Look The Most Beautiful Barefaced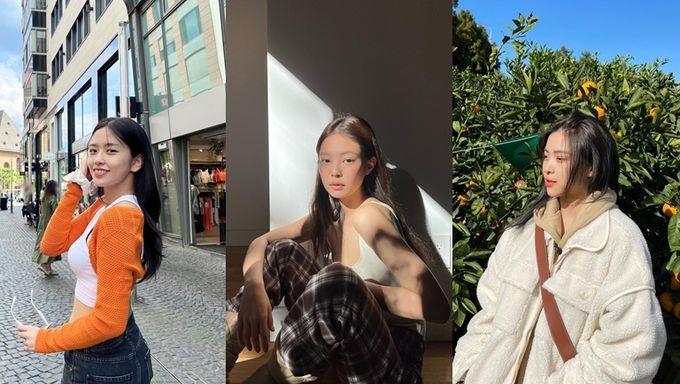 Recently, we covered male idols who look the most handsome barefaced. Without a doubt, there are also many female idols, who look stunning without makeup! That's why we couldn't miss out on sharing unfiltered photos of beautiful K-Pop girl group members and soloists.
Many Korean singers are models for skincare brands and there's no surprise to that. They take care of their skin very well! They often post videos of their daily routines or enjoy live chitchat with fans, in their pajamas with adorable bare faces.
Whether it is an on-stage glam or off-stage homey look, our biases always leave us impressed, and here is the proof for that statement.
Our first "nominee" shouldn't surprise you – IU is literally a queen of the barefaced look. The idol looks so incredible without makeup that you can barely tell the difference.
We totally adore this barefaced puppy-like selfie of IU – it melted our hearts!
Obviously, this list wouldn't be complete without Suzy. The artist has been called the most beautiful woman in Korea multiple times – her gorgeous barefaced look proves it very well.
Suzy can also promote high fashion without any makeup or retouching needed!
If you don't subscribe to HyeRi's YouTube channel yet, then you definitely should! She never fails to bring wholesome content to her fans and makes her channel feel like a safe space. You can see her most often with no makeup on doing mukbangs, shopping, traveling, or simply enjoying her life.
HyeRi's authenticity is what we wish to see more in the K-Pop industry!
Talking about iconic YouTubers – 3 weeks ago BLACKPINK's Jennie posted a charming Hawaii vlog. In the video, the singer shared her "Get Ready With Me" process, showing the before and after look. Also, in her other videos, she embraced the chill home look, making her subscribers feel like friends, who share personal moments with her.
We hope to see more of such content from Jennie!
What better place to fully unveil your natural beauty than Hawaii? Red Velvet's Yeri enjoyed her vacation in the American tropical paradise. You can easily tell that it was a very relaxing and memorable trip.
Yeri's beautiful selfies are an absolute girl crush moment!
GOT the beat definitely has shaken the 2022 K-Pop scene, what has also shaken us were their incredible no-makeup looks we were able to see through their "M COUNTDOWN" dance practice video. If you watched the video, surely you must have paid attention to one particular member – Karina.
The idol's bare face truly emanates positivity and youth!
Recently, TWICE members shared individual vlogs of their favorite memories from the "III" world tour. Mina showed behind the scenes of the shows and how she spends her free time during the tour. Fans were able to see the idol before she gets glammed up for the performances – both off-stage on on-stage, the singer looks beautiful.
We loved seeing Mina's cheerful bare face!
One of the places where fans can enjoy the chill, no makeup chat sessions with their idols is VLive. ITZY members often share these moments, one of them being RyuJin. Earlier this month, the singer sat down and did a catch-up stream to update MIDZY (ITZY's fandom) on her life.
The smiley, barefaced RyuJin is just what we needed in our lives!
Spring reminds us not only of the natural beauty that surrounds us but also of the one within us. You could see Girls Generation's SeoHyun's Instagram photos reflecting this statement very well. Back in April, the idol went on a walk to celebrate the cherry blossom season in Korea and posted these unfiltered memories on her feed.
It's hard to say whether we should be admiring the blooming flowers or the breathtaking view of barefaced SeoHyun.
This year on the May 14 IVE performed at the European K-Pop festival called KPOP.FLEX, hosted in Germany. Member YuJin explored the German city Frankfurt am Main at night, dressed up in light summer clothes with a cute ponytail and without any makeup on.
As more and more tours are being announced these days, we will surely get to see the IVE's member natural beauty more often, while exploring foreign cities.
Which one of these natural beauties is your ultimate K-Pop girl crush? Who would you ask for skincare tips?