Dream Casting: 6 Actors/Idols We Think Would Be Perfect For The Role Of Jang PilDoo In Upcoming Webtoon Based K-Drama "The 26th Murder"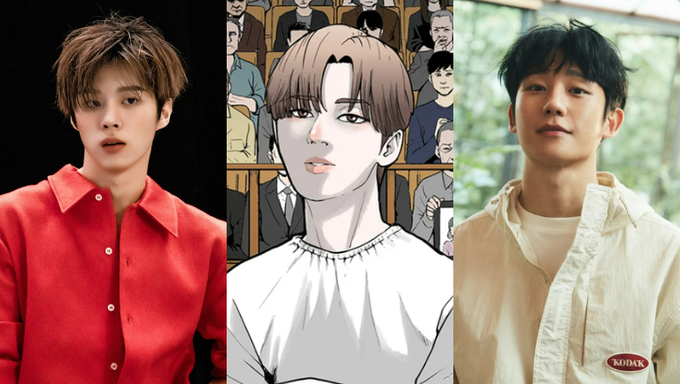 The exceptional roster of webtoons announced and confirmed to be adapted into live-action content such as dramas and films has a brand new addition and we could not be more excited. The popular psychological thriller "The 26th Murder" by Suo and Abidi Inoue will be adapted into a K-Drama by Realies Pictures and Neostory. It is set to air in 2023.
'The 26th Murder" tells the story of an arrogant serial killer who is caught and sentenced to the death penalty but suddenly loses his memory to a concussion a day before his execution. The narrative thus explores the moral dilemmas of crime and punishment and the judicial structures governing the same through the lens of a suspense mystery as we grapple with the possibility of a murderer lying about his amnesia to get out of death row or alternatively, him genuinely having forgotten all his sins. If the latter is true, does that absolve him from his crimes, and if not, will a psychopath roam free?
Let's take a look at the webtoon!
Our protagonist is the Devil incarnate, Jang PilDoo, a young man whose angelic visuals contradicts his evil nature. The heinous crimes he committed have shaken up the police department and the legal system, causing an uproar in the nation. One day, after his 25th murder, Jang PilDoo gets roped into a blood donation van and ends up agreeing to donate blood in exchange for a movie ticket as a souvenir. Given his good looks, the medical professional, a young nurse, cannot help but compliment his model-like features.
As she tries to put her finger on where she might have seen him before, presumably on TV, she recalls a "Most Wanted" poster with his face plastered on it. With chills down her spine, she sends him away after his donation, handing him a movie ticket. Without delay, the woman calls the police and alerts them of his location. Soon after, PilDoo visits a cinema theatre to watch the movie and inadvertently gets caught by the police.
Despite his arrest, Jang PilDoo is downright insolent, laughing in the face of the court of law as the death sentence is pronounced. With the public throwing verbal assaults at him and the press flooding him with questions, Jang PilDoo provides an apology: one for not being able to kill more.
This is a cold-hearted psychopath with absolutely no remorse so one can imagine the chaos that is unleashed when he suddenly claims to have no recollection of his crimes.
You can read the webtoon in Korean here.
At the time of writing, the cast for "The 26th Murder" has not been confirmed. As such, we selected 6 actors and idols who would be perfect for the leading role, especially considering their skill and versatility.
We think Choi WooShik, UP10TION's Kim WooSeok, Hwang MinHyun, Golden Child's Choi BoMin, Choi HyunWook, and Jung HaeIn are wonderfully suited to the complex and layered character of Jang PilDoo. Who do you think would be ideal for the role? Vote for your pick in the poll down below!
Who should play Jang PilDoo?
※You can vote multiple times without sign in.
Choi WooShik
UP10TION's Kim WooSeok
Hwang MinHyun
Golden Child's Choi BoMin
Choi HyunWook
Jung HaeIn
Note: The aim of the vote is for Kpopmap readers to share their opinion about their preference for the cast. It is not affecting the cast of the production team.
If you are interested in other drama adaptations of webtoon and their dream cast, you can check out our previous articles: "The Moon That Rises In The Day", "Love Alarm", "Something About Us", "Cohabit That Is Knocking Me Over With A Feather", "True Beauty", "Sweet Home", "A Good Day To Be A Dog", "Itaewon Class", "Lookism", "The Remaried Empress", "Gorae Byul – The Gyeongseong Mermaid", "There Must Be Happy Endings", "Now I'm Taking A Break From Dating", "Weak Hero", "Delusion", "Yumi's Cells Season 2", "See You In My 19th Life", "Borrowed Body", "The Girl Downstairs", "Vampire Chef", "Back To You" and more.
Are you excited for "The 26th Murder"? Share your thoughts with Kpopmap in the comments section down below!