Top 4 Cutest Female Idols With The Twin Bun Hairstyle According To Kpopmap Readers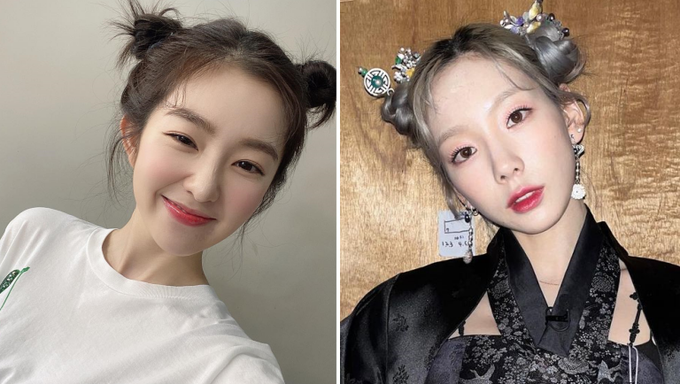 Twin buns are often regarded as one of the cutest hairstyles of K-Pop idols. Drawing all attention to their striking faces, the twin bun hairstyle gives them a very chic, playful, and trendy look.
We took a fun poll on the 29th of March 2022, asking our readers to vote for the cutest female K-Pop idol in the twin buns hairstyle. A lot of votes were cast and we thank you for your participation.
The results are in! Here are the top 4 female K-Pop idols with the twin bun hairstyle.
It might be scientifically proven that any hairstyle to Red Velvet's Irene does, will always look good on her. And in twin bun, her adorable charms are just irresistible as she looks like the cutest bunny in the park. With 1,800 votes, she ranks 1st on this poll.
Pink-haired with twin buns, EVERGLOW's Onda added another layer of cute to this hairstyle as she looked not just adorable but trendy and chic too. With 760 votes, she ranks 2nd on this poll.
We can add twin buns to the growing list of hairstyles that aespa's Winter has slayed in as the idol looks absolutely stylish and cute with this hair. With 330 votes, she ranks 3rd on this poll.
Beyond her exceptional singing talents, she is also known as a fashion star and will always serve memorable looks, which includes this twin bun hairstyle. The 'INVU' singer places 4th on this poll with 311.
Find out all the rankings below.
If you still want to cast your vote, you can below as the vote is always open.
Which of these female idols looks the cutest with the twin bun hairstyle? Let us know in the comments section below.